Pipe patching and repair
Pipe patching repair solutions that work
Don't waste money on digging up and replacing your old pipes until you let the experts evaluate and diagnose the best solution available. Did you know, Ryan Old Plumbing can repair damaged and worn piping using plumbing methods known as pipe patching and pipe relining. If you are searching for pipe repair solutions that actually last. Our team of skilled and knowledgeable plumbers are experts when it comes to pipe patching, relining and general pipe repair.
BOOK PIPE PATCHING SERVICE TODAY
Pipe repair methods
In order to repair a pipe with current plumbing techniques, it really depends on the type and extent of the damage to the piping in question. The 3 most used methods we use today are:
Pipe Relining
Pipe relining involves the use of inserting a lining tube inside a damaged pipe which may have a crack or a leak and is perfect for longer lengths of pipe and piping in inaccessible areas. This stops the need for extensive earthworks to remove and replace the pipe and it often ends up stronger than the original piping. For more information about our Pipe Relining Services you can check our page on the topic right here: pipe relining
Pipe Replacement
Self explanatory and involves the costly removal and either a complete or part replacement of the pipe itself. This also involves considerable earthworks to the surrounding area and disruption to services utilising the pipe.
Pipe Patching
Similar to relining, the technique known as pipe patching also allows the pipe to be repaired without having to completely dig up the pipe itself or disrupt any attached fixture. Patching is generally needed for localised fractures or breaks in a pipe and the process generally takes a few hours.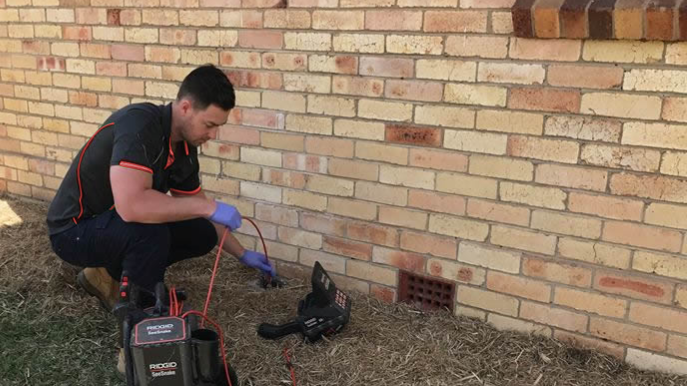 Pipe Patch Repairs
Instead of relining a whole pipe, only part of the pipe needs to get patched. Not only is Pipe patching the most popular form of pipe repair, it is also the most cost effective. Patching can treat smaller cracks and leaks in your pipes which do not require full relining or replacement. It is a durable option, meaning it won't need regular replacement or attention and will permanently fix the issue without large scale excavation works or labour costs.

Complete pipe patching services
Ryan Old Plumbing offer a comprehensive range of pipe patching services to suit commercial, industrial and residential plumbing. No job to small, no solution too huge! We deal with customers ranging from your home and garden all the way up to massive industrial plumbing solutions. We are aware of how annoying the disruption that incomplete and low level plumbing can cause, so we ensure that all our work is fully completed with the highest level of industry workmanship possible. With years of experience, we can offer the best type of solution for your needs including broken pipes, blocked drains or even leak detection.
Pipe Patch Repair Brisbane
The qualified team at Ryan Old Plumbing reliably service Brisbane, the Gold Coast, Logan and Redland when it comes to pipe repair. We know that broken and leaking pipes are super messy and frustrating, which is why we offer pipe repair including relining long-term solutions or patching smaller piping repairs. We are also located in Wynnum, allowing us to be local to a huge amount of Brisbane residents and businesses.
Why choose Ryan Old Plumbing?
There are various companies that offer pipe repair services in the same areas as Ryan Old Plumbing, so why choose us?
We are a group of fully qualified plumbers with over 10 years industry experience.
We offer exceptional service at a reasonable price.
We have a 24 hour emergency service every day of the week.
We are one of the fastest growing plumbing businesses in Brisbane.
We offer a huge variety of services for all sized jobs.
Our team are highly trained and complete regular industry education to stay up-to-date with the current standards and systems.

Your local pipe patching repair experts
If you would like to know some more about pipe patching or any of the services we provide, give Ryan Old Plumbing a call on 0421 185 947 or complete our online job enquiry form now. We are experts when it comes to pipe patching in Brisbane, the Gold Coast, Logan and Redland, so get in contact today!
BLOCKED DRAINS FAQ
For more in depth blocked drains information visit our Blocked drains Information page