Dux Hot Water Systems
Your local Dux specialist Brisbane & Gold Coast
Dux has been producing efficient, long lasting, reliable hot water systems for Aussie homes since 1915. The Dux hot water product selection includes water heating options for any size and shaped home. Covering top quality systems in electric or gas storage, continuous flow, gas or electric boosted solar, and air sourced heat pump you'll find the perfect hot water solution from the Dux range.
Ryan Old Plumbing is your local Dux hot water system installation, repair , and servicing specialist across Brisbane and the Gold Coast.

Book a Dux Hot Water Specialist
The complete Dux range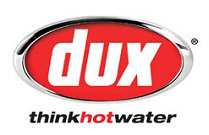 Dux electric storage hot water systems
Easy to install and supplying full mains pressure to every tap the Dux electric storage hot water range offers a straightforward upgrade from your old electric unit. Features include:
25L to 400L storage tank sizes ideal for homes with one to 11 people
7 to 10 year tank warranty
Low maintenance design
Made in Australia
Versatile indoor or outdoor installation options
Dux gas storage hot water
With 4 or 5 star energy rated choices Dux gas storage leads the way in energy efficiency and hot water recovery rates. Features include:
7 to 10 year tank warranty
135L or 170L tanks
Mains pressure hot water at multiple outlets
No electricity required - hot water not affected during power outages
Natural gas and LPG styles
Patented flue damper design reduces heat loss - selected models only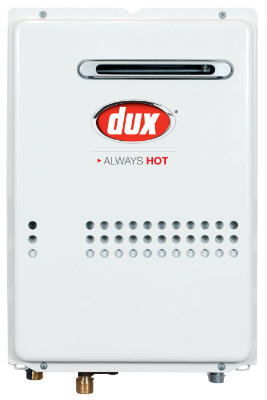 Dux instant hot water systems
Never run out of hot water again with the superior Dux continuous flow hot water systems . Features include:
6.1 and 6.7 star energy rated
Compact space saving design
12 year heat exchanger warranty
Condensing and non-condensing models
No wasted energy keeping a tank of water hot
Electronic ignition system means no standby pilot light gas usage
Only heat the water you use
Dux solar hot water system
With a range of gas or electric boosted solar hot water systems, Dux offers eco-friendly water heating solutions for homes large and small. Features include:
The split system design with the solar collector on the roof and ground mounted tank offers versatility.
Insulated Australian made storage tanks
Eligible for Govt rebates, STCs, or financial incentives
7 year tank warranty, 5 year collector warranty, and 1 year parts and labour warranty
High performance solar collectors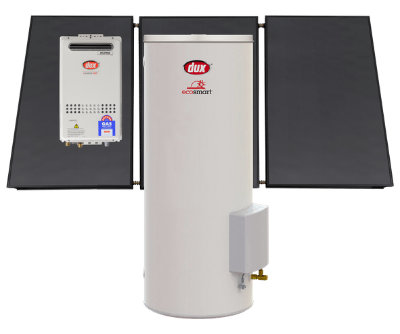 Dux heat pump hot water heater
Dux 250L air sourced heat pump hot water heater offers green hot water when solar is not practical. Using the ambient warmth in the air the heat pump system works like a refrigerator in reverse drawing the heat in to create hot water for your home. Features include:
No solar panels needed
Ideal for warm temperate climates like South East Queensland
5 year tank warranty
Eligible for STCs
Patented in-tank heating coil for improved heat transfer
Simple upgrade for your old electric storage system
Professional Dux installation, repairs & service
For top quality, reliable Dux hot water system installation, repair and servicing throughout Brisbane and the Gold Coast contact the Ryan Old Plumbing team at 1300 740 206 or complete our quick online Dux hot water service booking form today.
HOT WATER FAQ
For more in depth hot water information visit our Hot water Information page