Heat Pump Hot Water

Reliable heat pump hot water options across Brisbane
If you are searching for a hot water solution that is highly efficient and good for the environment, look no further than a heat pump hot water system. Your hot water bills will go down, your carbon footprint will lower and you will have reliable hot water all day and all night - sounds pretty amazing to us!
Ryan Old Plumbing offer the supply, installation , replacement and repair of heat pump hot water options all across Brisbane, so get in contact today to learn more!

BOOK HEAT PUMP HOT WATER TODAY
How does a heat pump hot water system work?
A heat pump hot water system works on the same principle as a fridge, however instead of pumping heat out of a fridge to keep it cool, it pumps heat into water to make it hot. Electricity is utilised to pump a refrigerant through the system, and the refrigerant moves the heat absorbed through the air to the water that is held in the storage tank.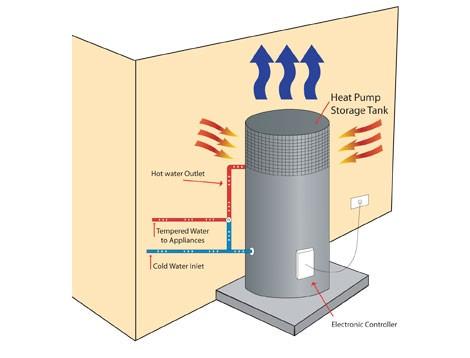 What advantages does heat pump hot water system offer?
Practical renewable energy water heating option.
Energy efficient - use 60% less electricity than traditional electric hot water systems.
Ideal for Brisbane climate.
Help reduce electricity costs.
Lower environmental impact.
Easily installed - no need for solar panels or gas connection like other options.
Chat to the friendly Ryan Old hot water team to learn more!
What is the price of a heat pump water heater?
The price of a heat pump hot water system varies, depending on the type and style you get. Options include:
Integrated system : Designed to be installed as a single outdoor unit.
Split system : Components both inside and outside of your home
Retrofitted systems : Retrofitted to your existing hot water tank.
Some models can also be provided with an electric booster element or defrost cycle for use in colder climates, meaning there is likely something to suit your exact needs.
Heat pump hot water heaters are usually more expensive upfront, however, many of these systems are eligible for Small Scale Technology Certificates (STCs). This is an Australian Government initiative to assist with sustainable energy investment, and are usually utilised to help reduce the purchase price of heat pump and solar units.
Professional heat pump hot water team
The Ryan Old Plumbing hot water team are fully qualified and experienced plumbers, allowing us to offer practical and pragmatic solutions when it comes to all your heat pump hot water needs. We understand the importance of choosing a hot water system that suits your hot water usage, which is why we take the time to find out what it is that our customers require before providing advice.
We work with all the major styles and brands of heat pump hot water units, so you can have peace of mind that you are dealing with a reputable and knowledgeable team of professionals.

Your local Brisbane heat pump hot water experts
If you have any further inquiries regarding heat pump hot water systems and their place in your home or business, or you would like to speak to one of our friendly team members regarding another plumbing issue you may be having, we would love to hear from you. We service Brisbane, Logan, Redlands and the Gold Coast, so call us on 0421 185 947 or complete our hot water service booking request today.
References:
https://www.energyrating.gov.au/products/heat-pump-water-heater
https://www.energyrating.gov.au/document/guide-heat-pump-water-heater-guide-households
https://www.energyrating.gov.au/sites/default/files/documents/HeatPumpWaterHeaterGuide_toWeb_0.pdf
*Diagram courtesy of Energy Rating
HOT WATER FAQ
For more in depth hot water information visit our Hot water Information page