Hot Water System Repair
Complete gas,electric,instant, solar hot water repairs
Ryan Old Plumbing offers comprehensive hot water system repairs throughout Brisbane, Logan and the Gold Coast. We cover all styles and brands of hot water heaters including gas, electric, instant, solar, under sink and heat pump. Reliable, consistent hot water is a basic essential for every home and business, our plumbers are on hand to respond promptly to all hot water problems.

Book a Hot Water repair Specialist
Common hot water issues
Problems with your hot water system can put a real dampener on your day. Cold showers are great after a hot summers day but any other time they are downright unpleasant. We rely on the ability to access hot water at the turn of a tap or the flick of a mixer but the reality is sometimes the system fails.
Our plumbers encounter a huge range of hot water issues every week, some of the common problems we see include:
No hot water
Hot water running out too fast
Burst hot water system
Water not heating up enough
Hot water being too hot
Leaking hot water tank
Brown or dirty water
Noisy or banging and popping sounds from the hot water system
Excessively high water heating bills
The Ryan Old Plumbing team can get to the source of all of these and many more issues and provide practical, efficient solutions to get your hot water working effectively as soon as possible.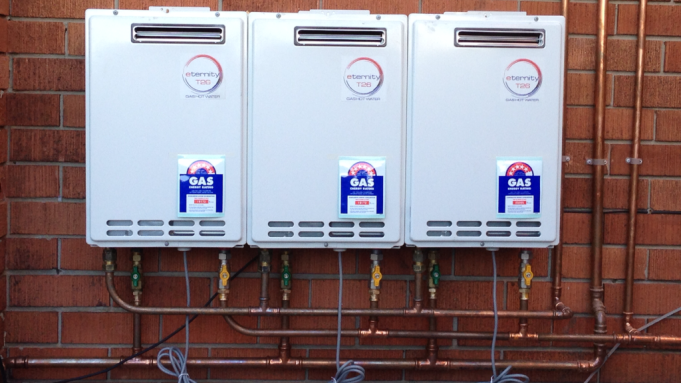 Why use Ryan Old Plumbing for your hot water repairs?
Our team of licenced and insured plumbers and gas fitters are experienced in all areas of hot water, from thermostat repairs to anode replacements.
Our emergency plumber is available 24/7 because we understand hot water problems can happen at any time of the day or night.
Our work is 100% guaranteed
We offer free, no-obligation quotes
We use top quality components and hot water brands to ensure our customers get reliable, long lasting repairs.
We offer a 0% interest-free payment plan to help you get your repairs carried out sooner. Speak to our service team to find out more.
Your local hot water repair specialists
Speak to our hot water specialists for all your water heater repairs throughout Brisbane, Logan, Redlands, and the Gold Coast at 1300 740 206 or complete our hot water service booking request today.
HOT WATER FAQ
For more in depth hot water information visit our Hot water Information page