Solar Hot Water
Reduce your hot water bills by installing a solar water heater today
Queensland has a sub-tropical climate and is blessed with sunshine throughout the year. Make the most of living in the sunshine state by switching to solar for your hot water needs.
With the rising electricity costs, solar has become increasingly popular and offers a lot of benefits. Ryan Old Plumbing provides installation, repairs and servicing of solar hot water systems throughout Brisbane, Logan and the Gold Coast. We can also upgrade your old hot water system to a brand new solar unit.
BOOK SOLAR HOT WATER TODAY
Solar Hot Water System Installation
Not sure where to start with solarhot water? Our hot water plumbers can help you with:
Selecting the right solar hot water system which suits your requirements, water demands, location and budget.
We can help you decide whether flat plate or evacuated tube; a close-coupled or split system; gas or electric boosted system would be better for you.
We will help you take advantage of the relevant government subsidies and rebates.
We'll carry out the complete hot water installation service.
We offer a 0% interest-free payment plan to help you get your installation carried out without affecting your budget. Speak to our service team to find out more.
How do solar hot water heaters work?
A solar hot water system consists of solar collectors and storage tank.
The cold water flows from the tank to the solar collector.
Solar collectors absorb the warmth from sunlight and use it to heat the water which is stored the tank.
There are two types of solar collectors - flat plate and evacuated tube.
Types of Solar Hot Water Systems
Close-Coupled Solar Hot Water
Close coupled or thermosiphon systems are very popular in Australia as they are efficient and cost-effective. This style of system has solar collectors and tank both placed on the rooftop and works on the principle of heat exchange. The cold water flows to the collectors by gravity, gets heated in the solar collectors and stored in the tank.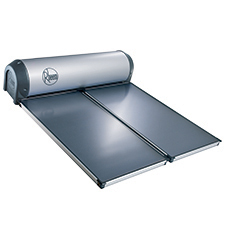 Split System Solar Hot Water
In split systems, the solar collectors are installed on the roof and the tank on the ground. The hot water is pumped using electricity from the collectors to the tank.
Both types of solar water heaters can be boosted with gas or electricity so you can still have a hot shower on cloudy or rainy days.
Solar hot water repairs and maintenance
Solar hot water systems need to be inspected every 5 years to ensure small issues are detected before they become major problems. Regular maintenance can also increase the efficiency and lifespan of your unit.
Our solar experts are equipped and trained to carry out repairs in hot water systems from all leading brands. Our services includes:
Cleaning and replacing valves
Cleaning the storage tank and solar collectors
Detecting leaks or holes
Replacing corroded or broken parts
Benefits of using solar water heating
Solar hot water systems can be more expensive than other options to purchase and install but they offer great savings in the long run compared to electricity and gas hot water.
Solar can improve the value of your home and also the resale value in case you decide to sell your home in the future.
Government offers rebates in the form of small-scale technology certificates so switching to solar offers great incentives.
Solar energy is clean and renewable and doesn't release harmful gases that affect the environment. Switching to solar is a great way to do your bit to slow down climate change.
It lowers our dependence on fossil fuels.
Solar hot water requires low maintenance and it can help you save money on your power bills.
Why choose us as your Solar Hot Water Installers?
We take pride in knowing our customers love our service. Check our reviews and find out for yourself,
No-obligation quote
Competitive and reasonable pricing for all our jobs
Fixed, upfront costs
Fully licensed and qualified plumbers
Quality workmanship
Lifetime workmanship guarantee for all our jobs so we can help you if something goes wrong.
Flexible payment plans for hot water services.
Trusted Solar Hot water system experts Brisbane
If you have any further questions regarding solar hot water or you would like to speak to one of our friendly team members regarding another plumbing service you may need, we would love to hear from you. We service Brisbane, Logan, Redlands and the Gold Coast, so call us on 1300 740 206 or complete our Solar Hot Water Enquiry Form today. We are the solar hot water experts you can rely on.
HOT WATER FAQ
For more in depth hot water information visit our Hot water Information page