Thermann Hot Water
Reliable German-engineered Thermann hot water systems
If you are looking for a top quality hot water system, you can't go wrong with a Thermann water heater. Whether you are looking for an instant hot water style unit or an energy-efficient heat pump model, there is a Thermann hot water system for your needs.
Thermann offers electric, gas, continuous flow, solar, heat pump, and commercial hot water systems in a range of sizes. Our licensed plumbers and gas fitters can help you with the supply and installation of a new Thermann hot water system as well as repairs and maintenance to your existing system. Book a specialist hot water plumber today.
BOOK THERMANN HOT WATER NOW
Thermann Continuous Flow Hot Water Systems
If you are looking for 6-7 star energy efficient rated continuous flow, or instant, hot water system Thermann is a perfect option for you.
The Thermann C7 continuous flow gas model has a 7-star rating and a capacity of 26 litres
The 6-star continuous flow model has a capacity of 16, 20 and 20 litres
Looking for a hot water system to meet the demands of a large home? The 32R continuous flow can run up to 3 showers at once


Thermann Gas Hot Water System
Adjustable thermostat for safety and efficiency
Gives users a high level of control on the operating costs and performance
Available in LPG and natural gas models
Comes in 135 litres and 170 litres
Thermann Electric Hot Water Systems
Thermann electric water heaters come in a variety of sizes, from small 25 and 50 litres for installation in restricted space, like under the sink or in an apartment, to a large unit with a massive large family capacity of 400 litres.
These electric water heaters are also available in hard water element options.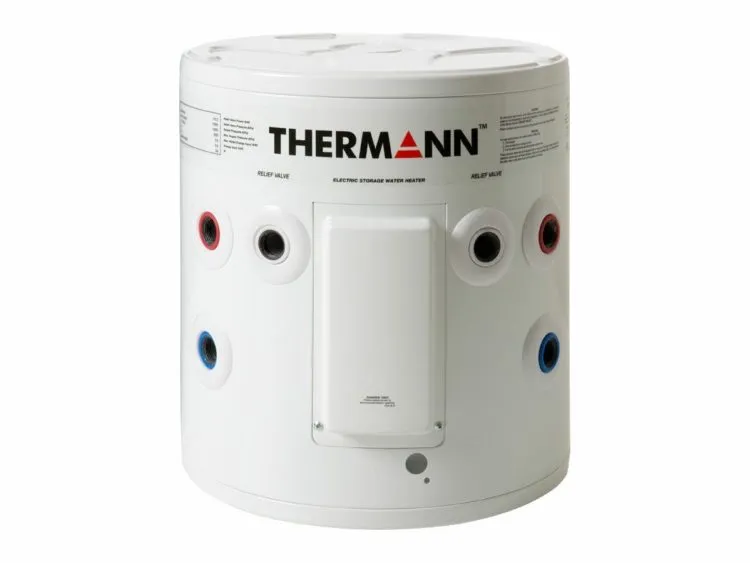 Thermann Solar Hot Water Systems
Reduce your carbon footprint with the help of a electric or gas boosted Thermann solar hot water system. These evacuated tube models use the sun's energy to heat water and the gas or electric elements in the systems provide back up for cloudy days.
They come with a 15-year warranty and are available in different sizes - 250 litres, 315 litres, and 400 litres.
Heat Pump Hot Water Systems from Thermann
Suitable for the harsh Australian climate
Available in 220 and 300 litres
Highly energy-efficient and ideal to reduce your electricity consumption
Thermann Commercial Hot Water Systems
Looking for a hot water system for your business? Thermann's range of commercial continuous flow and solar hot water systems can be customised to suit the needs of your business. The hot water systems can be linked together for higher efficiency and performance.
Our commercial plumbers can assess your hot water needs and provide the best solution for your requirements. We specialize in installation, repairs and maintenance of commercial and industrial hot water systems.
Thermann hot water solutions
Ryan Old Plumbing offers installation, repairs and maintenance on all models of Thermann Hot Water Systems. If your hot water system is not providing enough hot water or you need a new hot water system, contact our experts and we can recommend the right Thermann system to match your water heating requirements.
Your local Brisbane & Gold Coast Thermann hot water experts
For more information on our Thermann hot water system services, contact our licensed plumbers on 1300 740 206 . Alternatively, complete our quick online hot water booking form and our friendly staff will contact you to discuss your hot water system requirements.
HOT WATER FAQ
For more in depth hot water information visit our Hot water Information page